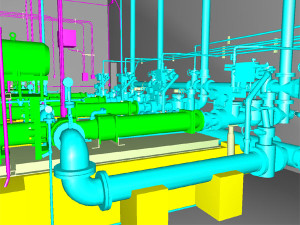 BIM, or Building Information Modeling, is a software that helps to generate 3D representations of physical structures and their individual characteristics. The software is commonly used in architecture and construction, as the two sectors primarily focus on building large structures.
Its tools have gained popularity among stakeholders as the 3D capabilities assist to provide granular results during drafting when compared to historical 2-dimensional designs. With 3D creations, property owners and managers can visualize the final implementation of a structure after completion.
Features of Building Information Modeling
The first step when using the software is drafting the initial design. With the software, multiple stakeholders in a construction project can work on a design simultaneously. As an optimized result, multiple collaborators will see the design before approval. Once the initial design is complete, BIM users can then present the designs to clients for approval before moving forward.
Contrary to popular belief, designing a physical structure is only the beginning iteration of uses acquired in BIM software. Users can simulate various parts of a building after the creation of a 3D model. The software offers insights into exactly how various elements will impact a physical structure after project completion. Modeling can dive into metrics and analysis as forecasted, such as providing solutions to help users see how sunlight will hit a building at different times of the year, or how sunlight will affect a building's energy usage.
When actual construction is on deck for integration, BIM offers solutions to allow users to sequence steps and elements of the entire process. The elements include construction materials and direct personnel needed for work.
The construction crew can review the 3D model developed using the building information modeling to perform clash detection to mitigate risk and avoid problems during the implementation stage. With the BIM software, stakeholders in the construction process can analyze and resolve issues that may arise and ensure timely completion.
How Exactly will BIM Transform the Construction Industry?
Improved Project Outcomes
Designing physical structures is a complex process and requires input from experienced specialists. After the completion of the designing phase, engineers undertake structural assessments testing different strains.
Building information modeling allows users to facilitate the planning process in a near automated manner. Stakeholders can view, manipulate and edit all planning stages within various formats. BIM solutions help to streamline change requests, automate planning and allow users to share expertise.
BIM allows designers and architects to experiment with different construction materials and work closely with project collaborators to acquire ideal options for a particular project. Also, an interior designer can take radical approaches and alter iterations based on a client's feedback.
Improved Quality Assurance
Designing physical structures using building information modeling involves more collaboration among stakeholders, but the chances of stifled progress is low. There is no need for users of the software to propagate changes manually in all plans as every user is editing the same data set.
Mistakes are far less likely to occur as a result of inadequate information in various parts of a design. As a result, BIM improves quality assurance and reduces the amount of time needed for verification.
The software uses a wide range of advanced design and mapping tools. Investors within the construction industry are increasingly adopting the integration of 3D scanning to display the characteristics of a site and other existing physical structures.
At the beginning of a construction project, builders use aerial imagery and digital elevation to capture every detail accurately, and this helps to streamline the preparations stage. BIM allows users to access accurate input and model sharing.
Building information modeling has tools that make it easier for specialists to apply real-life situations on different models. As a result, managers can evaluate whether they are building a structure according to initial standards and specifications.
For example, building information modeling users can examine the energy-efficiency levels of a structure and determine the best options to prevent energy loss in the future. Project managers can simulate the usage of different construction materials and find ideal options for a specific project.
We understand the complexities that come with technological advancements. We have the knowledge and expertise to take your project to the next level. If you have any questions about BIM in general or would like to speak to an expert, feel free to contact us today for more information.