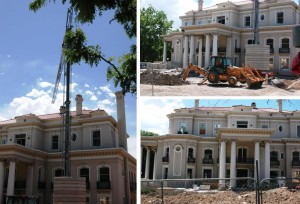 Civil engineering involves the construction of various infrastructural projects, including highways, dams and tunnels. Civil engineers specialize in either consulting or contract engineering. Partnering with McNeil Engineering on structural projects will provide years of knowledge and experience in the constructional design and implementation of office buildings, restaurants, residential buildings and various other contract service offerings.
Reasons for hiring Civil Engineers
Hiring civil engineers is vital to the success of a project, as the experts provide oversight throughout the entirety of a construction project. Civil engineering experts assist in monitoring construction projects and troubleshooting meticulous issues. Employing their services is advisable during the construction process, end-to-end.
There are numerous compliance and regulatory requirements specific to particular jurisdictions. We have a team of experienced civil engineers who are employed to ensure that your building complies with the relevant legal red tape and that measures are put into place to ensure safety codes are met.
For instance, different jurisdictions have different septic requirements. An experienced civil engineer is well aware of all septic requirements and will ensure they are in direct compliance during every stage of implementation while also ensuring that the correct and safe disposal of septic and sewage waste is in adherence.
A civil engineering professional will assist during the initial stage of a construction project by ensuring that the work is done according to the specifications in the project proposal. Civil engineers will also keep all items used within the determined budget and constructing temporary structures for use during the project.
Obtaining Permits and Plans
You need the expertise of a civil engineer before the commencement of a new development project. The experts from the company will provide plot plans to outline utility locations, easements and other features. Differing jurisdictions require project owners to have plot plans before the issuance of permits, so you will need the assistance of an experienced civil engineer to mitigate the necessary paper work.
Zoning and code research is crucial during a construction project. Our engineers research in depth to ensure that all projects are carried out according to the law. Compliance with the local regulatory requirements is critical to the successful completion of your project.
Working with a team of professional civil engineers will help you to save some money during a construction project. Our experts will ensure a seamless and streamlined process in accordance with the relevant regulations.
When Should You Hire a Civil Engineering Specialist?
Are You Building a New Home or Starting Renovations? If you have plans to build a new home or renovate an existing one, consider hiring a civil engineer to help you during the designing and planning phase of your construction project.
Do You Need a Septic Disposal System? A civil engineer can help to provide a design for the construction of different types of systems to ensure the safe disposal of septic waste. Civil engineers are knowledgeable in areas regarding the specific requirements set by relevant authorities for constructing and renovating disposal systems.
Do You Have Questions Regarding Drainage Systems? If you are experiencing drainage problems on your property or have plans to construct a new drainage system, hiring a civil engineer it vital to the project. They can design a new system or redesign an existing one. Also, these specialists can offer solutions by finding nuanced options plausible to fixing a drainage system.
Are You in the Process of Creating Landscape Plans and Constructing Retaining Walls? Different jurisdictions set regulations for the construction of retaining walls and developing landscape plans. For example, a state may specify the height of retaining walls or put in place regulations for the placement of plants and trees in your property. A civil engineer will ensure that the work is done according to industry standards and in accordance with the law.
There are many aspects to consider when looking for the right civil engineering company for your project. Ensure that the organization has many years of experience in the field and that the experts from the company have experience in similar projects.
Another important consideration when hiring a civil engineering firm is the cost of services. The cost varies from one organization to another as does the quality of services offered. It should go without saying, but a reputable civil engineering firm will also have the necessary equipment and skilled personnel.
Contact us today for more information.