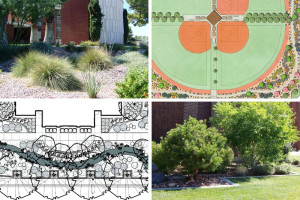 Landscape architectural service offerings contribute to increasing Gross Domestic Product (GDP) levels on a year-over-year basis. A landscape architect's main objective is to analyze project implementation on a comprehensive scale, plan accordingly, design adequately and employ natural structures to be adopted and molded within the model.
By utilizing previously integrated innovations and progressive technologies, landscape architects have the ability to mitigate risk, add value, optimize construction scheduling and lower overall customer costs.
Landscape architecture also has the ability to improve health, lower our carbon footprint and increase overall sustainability with eco-friendly design guides and regulations. Let us take a look into a more nuanced approach to the inclusive whole of landscape architecture.
Why is landscape architecture important?
The essence of landscape architecture is the development and expansion of great cities, public parks, sidewalks, streets and town spaces. The encompassing beauty that a city is envisioned in is realistically created and developed by landscape architects.
"Public welfare in the context of landscape architecture means the stewardship of natural environments and of human communities in order to enhance social, economic, psychological, cultural and physical functioning, now and in the future." —CLARB (The Council of Landscape Architectural Registration Boards)
By creatively and artistically manipulating environmental factors, landscape architects are able to increase wellbeing and a general sense of healthy living within a community of people. Architecture derived from landscape spaces also possess the ability to inspire resiliency and sustainability on a scalable level that progresses and adapts with time.
Specific ways in which landscape architecture shows its importance through environmental awareness include:
Primary focus on environmental and natural area protection
Expansive and lustrous community development
Continual focus on climate change and how to combat the current progression of global warming
Implementing an eco-friendly infrastructure by creating green roofs, green transportation, green streets, etc.
Continual contributions to the economy via community growth and evolutionary development
What is the difference between landscape architecture and architecture?
The primary difference between the two sectors is the type of medium used during the designing phase of a project.
Landscape architects derive inspiration from existing man-made and natural environments — fluid objects, such as water, trees, grass and shrubbery. Static architectural counterparts pull creative inspiration from buildings and structural development.
Landscape architects can be completely separated from general architects, but the adverse is not necessarily true. Architects should be aware of the designs integrated within landscapes as they begin the preliminary designing stages of their project development phase.
Think of buildings versus building sites — two completely differently specialties, yet two integral and interwoven components to community aesthetics on a grander scale.
What type of education is required to become a landscape architect?
Landscape architects are required to attain a Bachelor's degree (minimum) in landscape architecture. For individuals looking to continually progress within this industry, a graduate degree is necessary for career development and eventual expansion.
Regulatory and compliance licensing is also required to actively practice and work as a landscape architect. The previously quoted CLARB council is an example of this. The Council of Landscape Architectural Registration Boards is an initiative implemented to administer license, control, and maintain state credential requirements.
Landscape architect degrees and related areas of education include:
Sustainability Degree
MBA in Sustainability and Compliance
Master's in Renewable Energy with correlated Certificate
Nuclear Engineering Certificate (Master's)
Leadership in Energy and Environment
Where can a landscape architect work?
Landscape architects have the opportunity to work for a wide range of entities including:
Government sectors
Town or city ccouncils
Individual developers
Contractors in the public and private sectors
Local governing bodies and authorities
While the predominance of the initial phases of a landscape architectural venture takes place in the office, the project is seen through to completion outdoors. Landscape architects also have a tendency to work with a collaborative team. This allows for a wider reach and quicker turnaround times.
Individual projects could span entire city regions or be scaled to do private sectors in smaller areas.
Summary
In summation, landscape architecture has the ability to span across nuanced areas of the outdoor spectrum with one goal in mind – to increase sustainability and aesthetic pleasures while simultaneously utilizing the complexities of nature and preexisting developments.
If you have specific questions regarding landscape architecture or you would like to speak with a knowledgeable landscape architect today, please don't hesitate to reach out to us HERE.
Our current Landscape architecture service offerings are as follows:
Site design
Master planning
Irrigation design
Landscape design
Plaza and paving design
Grading and drainage plans
Site and landscape remodel
Cost estimating and budgeting
Construction administration
Permitting and city approvals
Illustrative and graphic design
Signage and gateway design
We look forward to working with you on your next project!