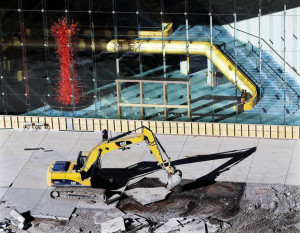 Are you familiar with the work of your friendly, neighborhood civil engineering team? Whether you know it or not, the answer is most definitely YES.
The work of the civil engineers on the McNeil Engineering team have had a tremendous impact on the look, feel, and shape of the local Salt Lake City community and its neighbors. Everywhere you turn you can see the influence our team has had, as we've played a major part in the design, construction, and implementation on both public and private landmarks.
In fact, did you know that civil engineering is arguably the oldest engineering discipline? It's true. The work of a civil engineer is behind nearly everything in your built environment, and has an enormous influence on your experience of the world around you. It's a highly rewarding profession, because we instantly see the results of our professional efforts. We take that responsibility seriously!
Where might you see some examples of our work? Here's the short list.
Civil Engineering Projects in the Greater Salt Lake City Area
Abravanel Hall (as seen in the accompanying image to this article)
Cottonwood Mall
Enos Wall Mansion (the former LDS Business College building)
Fashion Place Mall
Frontrunner South Station
Gateway Salt Lake
In-N-Out Burger
Jordan River Parkway Pedestrian Tunnel
Millcreek Technology Park
Okubo Farms Subdivision
Oquirrh Mountain Marketplace
Sugarhouse Monument
And that's just the beginning. The McNeil civil engineering team has worked on both public and private projects including retail, restaurant, industrial, manufacturing, institutional, transportation, residential, and mixed-use spaces.
We've designed roads, bridges, buildings, shopping districts, pedestrian plazas, and homes. We work with city and county public works teams, private contractors, and historical preservation teams. And for more than three decades, our work has been going up in communities across the mountain west.
Additionally, we work on projects that preserve the history of our community. We've had a hand in preserving historic churches, hotels, and so much more. Our work helps to preserve the character and unique cultural history of a community, in addition to helping to shape the future through new and upcoming projects.
What types of design services do we provide? Here's just a sample: site layout; road and parking lot design; grading design and earthwork analysis; water systems analysis and design; sanitary sewer system design; residential and business park subdivision design; 3D modeling; help with roadway and encroachment access permits; and site feasibility studies and due diligent analysis.
In short, we're a one-stop shop to build, shape, create and redesign in neighborhoods, cities and counties. We get things done. We're tremendously proud of the work we've done, and feel privileged to have such a positive impact on our built environment in the community.
In future blog posts, we'll highlight specific McNeil civil engineering projects in the community to provide more information about the projects you might have seen, and maybe even had questions about.
If you want to learn more, we invite you to visit us online, through our social media channels, or reach out to us directly. We look forward to hearing from you!
About Us
In 2018, the McNeil Engineering team celebrated 35 years in the community. If you could use additional information about the cutting-edge, industry-leading services we offer in civil engineering, landscape architecture, structural engineering, laser scanning and land surveying, and roofing and paving consulting, please don't hesitate to visit us online or reach out.