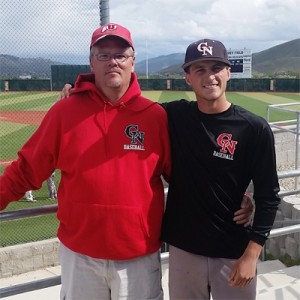 "TEAM – We understand that while our industry is changing, our success and the success of [others] still depends on building strong relationships and working as a cohesive team towards a common goal."
And today, we aren't talking about structural engineering projects or consultations. Today, we want to talk about the greater good and progressive evolution of humanity – without sounding too philosophical, or course!
We hear the term work/life balance nonchalantly thrown about on business podcasts and around the water cooler at work. But what exactly does it mean? Is it more time with your family? More time to travel? More time to binge on Netflix originals?
Or is it something more?
Michael Hoffman, McNeil Engineering's very own Survey Manager, chooses to believe that balancing your work and life goes much deeper than that. He takes leadership seriously and extends his reach to depths most of us are unaware of.
This is what true leadership is. Asking how you can be of service to others. Lifting others in their time of need. Leading by example. It isn't very often you get to read about particular service offerings that transcend the industrial work place and make a difference in the lives of others, but today we are doing just that.
A Hospice Hero is awarded
Today we get to shine a light on Michael and brag on him a bit. He deserves it! Michael consistently makes a proactive effort to visit hospice patients during his lunch break at least once, sometime twice each week. He's been sticking to this service-driven leadership for over a year now.
And he doesn't stop there. As a matter of fact, last Christmas, the McNeil Engineering team had the privilege of working directly with the Boy Scouts of America to assist them with receiving their surveying merit badge, an experience we know we will never forget, and we're sure they won't either.
One thing we want the community to know is that we are more than engineers. Michael is the perfect example of that. Michael received the Hospice Hero Award back in early December 2019. The Hospice Hero Award is a program honoring hospice volunteers and professionals across the nation, highlighting their dedication to a selfless commitment to others. We are so proud of Michael!
To us, success means providing an unmatched value through commitment and individualized service to our community. When a business is known for their industry expertise and even more so for their commitment to giving back, we call that progressive scalability and adaptive evolution – on a human level.
We want to thank Michael for his consistent commitment to others. We absolutely could not experience any form of success without employees like Michael and the continued support of our beloved community.
We would like to take this time to highlight our team and their contact information. If there is any way we can assist you, please let us know. We truly love our community.
Management Contacts:
Civil Engineering Contacts:
Ted Didas, P.E., President / CEO -Civil Engineering Manager | 801.255.7700 x114 | ted@mcneileng.com
Rob Poirier, P.E., Civil Engineering Project Manager | 801.255.7700 x117 | rob@mcneileng.com
Daniel Canning, P.E., Design Engineer
Jake Felshaw, Senior Civil Designer
Cody Williams, Staff Engineer
Structural Engineering Contacts:
Matt Roblez, SE, SECB, Principal – Structural Engineering Manager | 801.255.7700 x128 | matt@mcneileng.com
Brian Warner, S.E., LEED AP, Senior Structural Engineer | 801.255.7700 x111 | brian@mcneileng.com
Anthony Schmid, S.E., Senior Structural Engineer | 435.632.7660 | anthony@mcneileng.com
Cody Palmer, P.E., Professional Engineer | 435.213.3660 | cody@mcneileng.com
Rebeca Rendon-Lira, Project Coordinator
Tevi Lawson-Avla, Staff Engineer
Walter Travis IV, P.E., Professional Engineer
Layton Asmus, Staff Engineer
Greg Ostermiller, Structural E.I.T.
Shey Bailey, Structural Drafter
The ultimate work/life balance comes from enjoying both aspects equally. If you have any questions on the work we do in and around our community, or if you have any upcoming projects you would like to discuss with us, please feel free to reach out to us today.