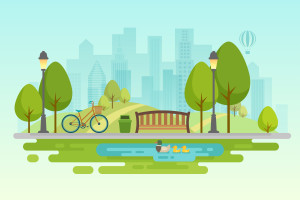 From the Grand Canyon in the USA to the Golden Circle in Iceland, we've come to appreciate how natural processes, over millions of years, can create awe-inspiring landscapes. However, it comes as a surprise to many when they realize the extent to which humans can alter the landscape. Over the course of history, there have been brilliant individuals that intervened in the landscape with aesthetic intent. Through wild imaginations, sublime designs, and critical planning, they were able to transform ordinary terrains into magnificent scenery – not in millions of years, but within the fraction of a lifetime.
Some were referred to as 'master-gardeners,' 'place-makers,' 'landscape gardeners,' but we have come to know as 'landscape architects.' This term, itself, was coined by one of the greats, Frederick Law Olmsted, and his partner, Calvert Vaux, in 1857 when they described themselves as 'landscape architects; on their winning design entry for New York's Central Park.
In no particular order, we explore the lives and contributions of five of the best landscape architects of all time that shaped the world in profound ways.
#1 Frederick Law Olmsted (1822 to 1903)
Frederick Olmsted was born in Hartford, Connecticut, on April 26, 1822, to a successful merchant father, John, who had a strong love for nature, which influenced John.
When Frederick was about to attend Yale College, sumac poisoning weakened his eyes, which caused him to give up his college dreams. In the 1850s, he pursued a career in journalism and was quite successful. However, he was always drawn to nature. He was mentored by the charismatic landscape architect from Newburgh, New York, Andrew Jackson Downing, who introduced him to his lifelong collaborator, Calvert Vaux. What kicked him to stardom was when their "Greensward Plan" for New York City's Central Park was announced as the winning design.
Frederick was involved in many other projects including the country's oldest and first coordinated system of public parks and parkways in Buffalo; the country's oldest state park, Niagara Reservation; the Grand Necklace of Parks in Milwaukee, Wisconsin; and even the master plans for the University of California, Berkeley, the University of Maine, and Stanford University, among many others.
He was highly esteemed by his peers and admirers of his work. Today, he is popularly regarded as the 'father of American landscape architecture'.
#2 Lancelot "Capability" Brown (1716 to 1783)
Lancelot Brown was an English landscape architect, commonly regarded as "England's greatest gardener." He was nicknamed "Capability" because he would often tell his clients that their property had the "capability for improvement." A testament to his words, many of the over 170 parks he designed still endure till today.
Brown was influenced by William Ken (1685 – 1748) and he advocated a more naturalistic style that used large expanses of undulating grass, water bodies with irregular shapes and shelterbelts. Although he was heavily criticized at the time, his innovative ideology came to be accepted and formed the basis of modern English gardens.
Some of his notable works included Kew Gardens, Chatsworth House, Blenheim Palace, Burton Park, Adderbury House, and many more.
#3 Andre Le Notre (1613 to 1700)
Andre was born into a family of gardeners in 1613. His grandfather, as well as his father, were in charge of the gardens of the Palais des Tuileries. Unsurprisingly, Andre followed in that same profession – garden designs.
In 1635, Andre was named the principal gardener of the king's brother Gaston. Thereafter, he succeeded his father as the head gardener at the Tuileries on June 26, 1637. After caring for the gardens of several royal figures, he was eventually put in charge of all the royal gardens of France, serving as the principal gardener of King Louis XIV. He was appointed Controller-General of the Royal Buildings in 1657.
As a landscape architect, he expressed himself mainly through gardens. His most notable work is the design of the gardens of the Palace of Versailles. Other principal gardens by Andre included the Gardens of Vaux-le-Vicomte, Gardens of Chateau de Sceaux, Gardens of Chateau de Saint-Cloud, and more. His work represents the apex of the French formal garden style.
#4 Roberto Burle Marx (1904 to 1994)
Roberto Burle Marx was a Brazilian landscape architect, ecologist, painter, printmaker, and musician who became renowned for his design works that reflected a sense of perfection and timelessness. He is accredited for introducing modernist landscape architecture to Brazil.
Roberto had a strong flair for avant-garde and modern artistic styles, which he infused with Brazilian designs. He was a big believer in nature-based design and so, he developed a robust idea of the interaction of plants with the landscape. Water gardens were also a popular theme in his works.
Some of his notable works include the Copacabana promenade (a pavement landscape, large scale 4 km mosaic); Flamengo Park in Rio de Janeiro, Kuala Lumpur City Centre (KLCC) Park, Malaysia, Parque del Este, Caracas, Venezuela, among many others. He won multiple awards during his lifetime and he passed away on June 4, 1994, aged 84.
#5 Gertrude Jekyll (1843 to 1932)
In a field once dominated by men, Gertrude stood out as one of the first famous women in the profession. She was a British garden designer, horticulturist, craftswoman, artist, and writer. Her main contribution lies in the publication of many books and articles that explored her research into landscape compositions.
As a proponent of the Arts and Crafts movement, her works highlighted the importance of proportion and color balance, as well as the use of fragrances and textures in plantations. She created over 400 gardens in the United Kingdom, Europe, and the United States, and is commonly regarded as "a premier influence in garden design" by British and American gardening enthusiasts.
Conclusion
So there you have it, our top five picks for the best landscape architects of all time. Through their vision, and artistic genius they deeply understood the relationship between landscape and man. This allowed them to create novel designs, yet it resonated with the hearts of people that saw them. Other notable mentions include Peter Joseph Lenne, Geoffrey Jellicoe, Thomas Church, Pechere Rene, and Carajoud Michel, among many others. They all left a legacy that will continue to inspire the world for generations to come.
Let us know if you have any questions regarding your next landscape architect project! Contact us here.