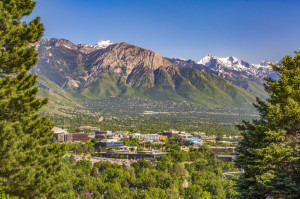 McNeil Engineering has been proudly serving the Utah area for more than 30 years. We call this state home for many reasons, but the fact is, we love the Beehive State. Whether Salt Lake City-based businesses have needed civil engineering, structural engineering, land surveying, or landscape architectural services, we have been right here to provide them at a high level.
We have had no shortage of business for simply one reason: Businesses are relocating to Utah. Companies are building new facilities here in very high numbers. In many cases, these companies aren't sure who to trust. They are new to the state and may be unsure who can do the job for them. And who do many of these companies trust to ensure the job gets done correctly in the end? McNeil Engineering.
Utah is a Beautiful State for Businesses
Utah used to be one of those little secret states. But in the past decade, the secret is out. Utah is not just one long expanse of open land. Beyond Utah residents, people have come to appreciate the charms and otherworldly beauty of our great state. Even now, many areas in Utah are still isolated and mind-blowing. It is a landscape ripe for exploration.
Consider the snow-capped mountains of the north. You also have access to the red-rock desert landscapes of southern Utah, where vast swaths of land are protected national parks and monuments. Utah's terrain is hugely varied. You can go from mountainous forests to vast canyon lands without much distance traveled.
Inspiring, peculiar, and utterly beautiful, Utah has a kind of rugged beauty and outdoor adventure charm that will seduce any nature lover. Skiers from around the world are drawn to the Wasatch Mountain Range and the first-class ski resorts. Utah is also home to ancient rock formations, Native American history, fascinating dinosaur fossils and formations and charming mountain towns.
Other areas in Utah that include magnificent rock formations can be found at Arches and Canyonlands National Park. Expect to see soaring red rock formations at the cliffs of Zion National Park and Bryce Canyon. The sunset-colored rocks in these national parks give Utah a unique and ethereal feel.
Utah is a Great Place to do Business
Why is Utah such a great place to do business? Well, we have a very friendly business climate. While Utah was originally dependent on farming and mining a century ago or more. As the land prospered, so did the people who lived and worked on it. Fast forward to 2022, and you'll find that Utah has one of the most highly educated states in the country. Businesses come here because they know we live in a highly competitive environment for workers. Businesses that come from out of state know this.
In various measures, Utah outperforms other, similarly-sized states. And without a doubt, Utah outperforms other larger states. Indeed, many people have relocated from states like California to Utah, where the business climate is far more favorable. Utah, for instance, boasts one of the highest growths in non-farm payrolls and top-five GDP growth out of all 50 states over the past five years.
Utah cities also individually perform well. Not all the action is contained in Salt Lake City. Three Utah areas consistently perform well in the area of employment and revenue growth. The Provo-Orem and Salt Lake City areas rank highly. But the area around St. George is also growing and shows great potential.
From aerospace to IT and big software companies, some of the Beehive State's leading industries are no longer built on land, but instead, rely on the brainpower and possibilities that exist in the digital realm. Utah has a business-friendly legislature that makes it well-known Utah is open for business. Combine that with a favorable property tax environment, and beautiful lands and Utah is simply the place to be for businesses!
How McNeil Engineering Supports Utah Businesses
Whether you're starting a business in Utah or bringing one over, you might be building or occupying a building. Perhaps you would like to make structural or landscape architectural changes to ensure your building suits your company's voice and design aesthetic. That's where McNeil Engineering comes in.
Businesses in and out of Utah rely on McNeil Engineering to provide professional, experienced, and top-notch services that include civil engineering, structural engineering, landscape architecture, and consulting. Our vast portfolio of work demonstrates our commitment to getting the job done right.
Do you have civil or structural engineering needs? Do you want to revamp your landscape and create something more beautiful or suitable for the environment your business is in? Consider hiring McNeil Engineering. We do business with entities all over (and out of) the state. We have the experience built from time in business to ensure your project gets done correctly and on time. Visit our website to learn more: http://mcneilengineering.com